IT'S ALL GOOD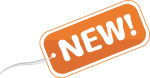 IT'S ALL GOOD X CLYDESDALE

It's all good in Illinois since our new purchase at the 2018 WPX. Meet Its All Good X Clydesdale -- an exciting addition to a power filled line up of boars that we have.
This boar was the youngest in the class that ranged from November 1 to Dec 5. He comes at you with natural width and goes away just as wide, planting his feet one in front of the other .
This boar has a beautiful profile and will produce gilts that will make you smile. He has great hips and hind legs. Square across the top.
Great from hock to ground. Check his pedigree and you will find IT IS ALL GOOD.
Bred by Earl Cain of Cain Super Sires!
DPF7 OVERTIME 4-4
2MFF4 OVERTIME 7-7 XGRA3 STRYKER 4-5

We are determined to make Hampshires better with each boar that we buy and this guy is no different. Just study his hips, his feet and his center body and make your Hampshires sound with our program. We called Darrell after INSF and ask him if he had any boars that would fit our program and goals.He brought us this guy the had been on regular feed . We agreed to co own him with the Drakes. He has a clean front end and excellent rib shape a natural big top wide toe spread, and is flexible and loose jointed. Thanks again to Darrell and Wade and all the Drakes for allowing us to utilize this guy.
owned with Drake Purebreds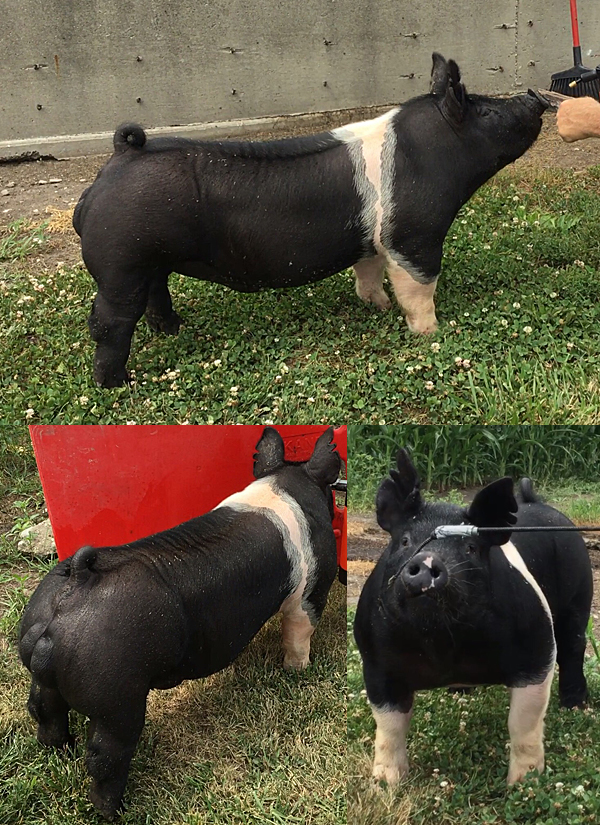 THUNDERSTRUCK
(THUNDERSTRUCK X SCORE X IN LIKE FLINT)

Every picture tells the story and these pictures are the real deal. We purchased this mighty Thunderstruck son from Cain Super Sires. It didn't take long to call about this guy when his picture came up.
He is THICK, MASSIVE with a ton of RIB. HIS FEET AND BONE ARE UNBELIEVABLE. His TOP IS AS NATURAL AS YOU CAN GET. He will make Hampshires better and will correct any Crossbred he is put upon. It was lightening the night Brent and I picked him up. Brent looked at me and said WE'VE JUST BEEN THUNDERSTRUCK.
Purchased from: Cain Super Sires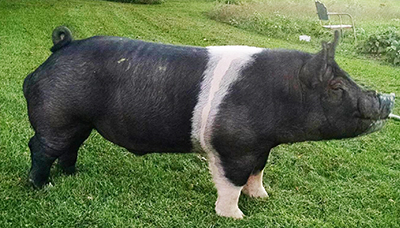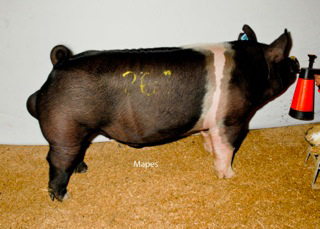 EC5 SCORE 9-5
(JL3 SCORE14-8 X MVLSO 3-1)

2015 Indiana State Fair Purchase
Weight:364 • BF: .80 • LEA: 11.9
Overlooked by all is the only way to describe this boar and after the phone calls we are so happy to own him. When he walked into the Indiana show ring there has not been a more powerful massive boar out in our eyes tall at the point of the shoulders and wide right to the ground. He carries a tremendous rib cage never runs down hill, this boar has huge feet and bone that will give you what Hampshires need -- more width with control of the rear wheels. Better females that is our goal for you!
Purchased from: Cain Super Sires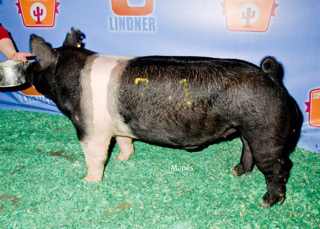 CDO5 LOCKSMITH
(LOCKSMITH 224-2 X JPZ2 PINSTRIPE 99-4)
2017 PREMIER SIRE 2017 ILLINOIS STATE FAIR
Weight:305 • BF: .56 • LEA: 9.0
We have added another key to unlocking your genetic potential WITH THE LOCKSMITH from Chuck and Ben Olsen. This boar was, to use Kevin Wendt's words to me, probably the most interesting boar at Belton. He was easy to read with a big hip an a cleanHampshire head and he was in his working clothes. This boar has square toes, big feet lots of bone and a great hip and center body that further adds to the power that we offer in Hampshire sires and Females. When we got him home he has gotten more massive and stays up on those feet. Study his pedigree and you will see the great Jane sow line that has made Hampshires productive and fun to raise. Use all of our sires like him and the results will astound you.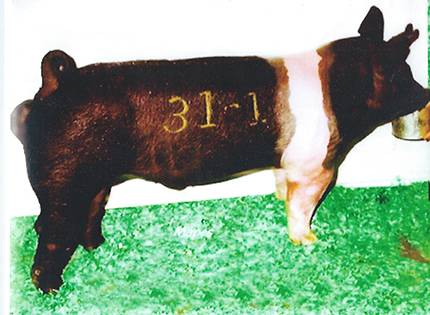 Augusta 7-1
(JLM0 Augusta 24-3 x JLM Augusta 18-1)
2014 Reserve Premier Sire - Illinois State Fair,
2014 Reserve Premier Sire - NSR Fall Classic,
and 2013 Premier Sire - Illinois State Fair
All we can say about this guy is Prolific. We bought this boar at the SWTC in March 2012 he placed 3rd in class and while not the biggest boar in the class, he was in our opinion the most stout-made and big-footed hog there. The other thing, and that finished the deal, was when Kevin Wendt said he was a Double bred Augusta and his mother was Augusta 18-1's mother!! Augusta 7-1 is deep-chested, easy moving and clean from the hock to the ground. He will make Hampshires sound and easy feeders with great depth of body and a great hip. JLMO AUGUSTA 24-3 X JLM AUGUSTA18-1. THAT BREEDING IS WHAT HAS MADE HIM STAND OUT. His first year crop of pigs in 2013 earned him Premier sire at Illinois State fair Reserve premier sire 2014 at Illinois state fair and, most recently at the 2014 FALL CLASSIC AT DUNCAN OK HE WAS RESERVE PREMEIR SIRE. Do not over look this tremendous sire.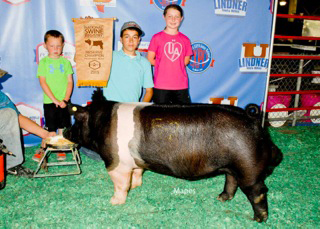 EC4
(REAL TREE 77-5 X JL1 HES A TEN)
2015 Reserve Champion Hampshire Boar, WPX
Weight:340 • BF: .83 • LEA: 9.5 • WDA: 1.66
When I got to the Expo this was the first boar that I saw and knew that he needed to be at our place. He commanded the ring in our eyes and can walk all day with control of his front and rear legs. If you analyze this guy begin at his feet which match the tremendous bone and massive front shoulders and natural width across the top. Match that with his excellent hip structure and you have the boar that can make your Hampshire sows great.
Thanks to the Cain family for bringing him to the show.